Tips to prepare your home for the cold months ahead

by Taylor Arnold
---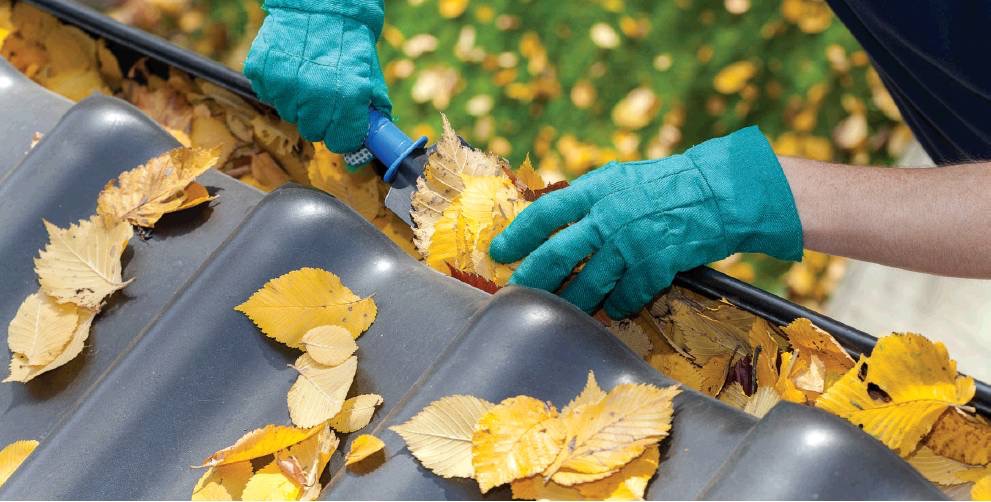 While most homeowners agree that spring is the time for cleaning, fall is perhaps the best time to examine other areas of your property to make sure everything is in working order for the cold weather months ahead. So in between the pumpkin carving and tailgating, don't forget to inspect
your roof, appliances, deck and other structures inside and outside the home. To help make sure you've hit all the right places, our experts share their tips for keeping your home on a fall maintenance schedule.
First and foremost, a simple walk around the exterior of the home is in order. According to Caleb McDaniel and Mike Carpinelli of Mike's Home Repair, these are the most important areas to check:
• Look for signs of peeling paint and rotted wood. (If a pen can be inserted into the wood area with ease, this is usually rotted.)
• Look for gaps where caulking seals around windows and doors. How does the door's weather stripping look?
• Do tree limbs touch the house siding or roof? If so, it's time for trimming so these don't damage surfaces of the home. Plus, trimming prevents vermin access to your roof.
• Look for water leaks or puddling around your foundation. See any goldish coloring on your siding and perhaps a drip leak from a protruding pipe above this discoloration? Your HVAC system may need service.
• If you have trees near your home, chances are good your gutters and downspouts need to be cleaned. Do this after the leaves have fallen.
• Does the roof covering look normal? Are there any missing shingles or tiles? Can you see light in between the gutter and the roof? If you find any of these, call a licensed contractor.
• Do you see any missing or not-functioning vent covers? How about lint blocking your dryer vent? (Heavy lint buildup in the dryer vent is a fire hazard.)
When you're ready to do a more thorough review of your home, be sure to examine these specific areas:
Driveway
Cracks in your driveway can be a sign of bigger things to come. "Concrete tends to crack usually within the first year and at a negligible rate over time," says Frank Blas, owner of Continental Home Inspections. "Remove any vegetation that may be growing in said location and fill with an epoxy, liquid cement filler or concrete crack sealant."
---
Exterior Walls
Most exteriors are designed to withstand our fluctuating climate changes, but where you'll see the most damage is from water penetration. "If the exterior develops gaps in its seal wood, or compressed wood is like a candlewick, water deteriorates the wood very rapidly," McDaniel says. "If you see something that does not look normal, chances are high that it needs to be addressed by a licensed professional."
---
Roof
The summer heat can be hard on a roof, so now is the time to check for blistering, creasing or nail pops. "Evidence of damage to your roof should be addressed immediately to prevent interior damage," Blas says. If your roof is steep or has a high pitch, you may want to hire a reputable roofing company to evaluate."
Tip: This is the time to buy insulated spigot covers to prepare for freezing temperatures.
---
Windows

If you spot any signs of chipping and cracking on the exterior of your windows, it could be a sign of additional damage. "Check the weather stripping for cracks or any signs of daylight," Blas says. "If any visible damage is noted, it is recommended that this be replaced or repaired as needed. If there is visible fogging or condensation, this could be a sign of seal failure (escaped gas from between the glass panes)."
---
Decks and Patios
Wood decks often get the most abuse from the sun during our summer, so it's
crucial to check for loose boards, railings, posts and pickets and see if any of these have warping or damage. "Use a sealant or stain based on the manufacturer's recommendation," Carpinelli says. "Commonly used treated yellow pine wood non-maintained may last 10 to 15 years. Well-cleaned and maintained, yellow pine wood decks can last many years more."
---
HVAC Unit
Going into winter, your HVAC unit needs to be serviced. "The condenser
has run all summer, and the furnace, which has been in a state of hibernation, will now take on the winter weather," Blas explains.
---
Plumbing
Be sure to check any areas of plumbing for leaks. "The crawlspace is the most common area where leaks are found," Blas says. "It is recommended to check all the plumbing lines in this area. Toilets should be checked by stepping on each side of the tank. If this area is loose or the tank rocks back and forth when pressure is applied, you are sure to have a leak in the near future. In this case, a gasket needs replacing by a licensed plumber."
---
Smoke Detectors
The National Fire Protection Agency recommends changing your smoke
detectors every five years. It is also a North Carolina state law to have carbon monoxide detectors on each level of the home. "It is recommended that the fireplace be evaluated as well," Blas adds. "It's important to ensure that there are no blockages in the flue liner and a carbon monoxide test be conducted on gas units."